WSU Core Laboratories Open To Public and Private Researchers
Over the last few years, the HSSA has committed more than $1.54 million to assist WSU Spokane to build critical CORE laboratories for use by WSU researchers as well as other university and private researchers in the Spokane and Eastern Washington region.
These state-of-art CORE labs attract the best scientists and researchers to the Spokane campus, and support their ongoing research in the health sciences.
Download the Core Facilities poster.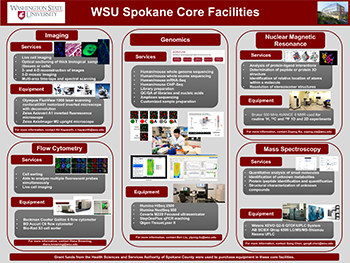 CORE Director
Merle J Heineke
Director, Research Laboratories
merle.heineke@wsu.edu
509-358-7889
Website: https://spokane.wsu.edu/research/core-facilities/
Genomics Core Facility
Contact: Ben Liu, yiyong.liu@wsu.edu or Spok.GenomicsCore@wsu.edu; 509-368-6668
Website: https://labs.wsu.edu/genomicscore/
The Genomics Core Facility is led by a faculty-level director and provides laboratory support, technical advice, assistance with experimental design, and data analysis for investigators using high-throughput genomic sequencing, genotyping, gene expression and epigenetic analysis in their research programs. The facility currently provides support for processing RNA and DNA, performing targeted RNA-Seq, BS DNA methylation, ChiP-Seq, and qRT-PCR, as well as analysis of targeted genomic regions, small genomes (viral and mt DNA), and whole exome and genome sequencing studies. In addition, staff work with investigators to develop new methodologies and incorporate emerging technologies into their research. Computational support for hardware, data analysis and storage of high-throughput sequence data is also available.
Equipment located in the Genomics CORE Facility includes: Illumina HiSeq 2500 with C-bot and Illumina NextSeq 500 for high-throughput DNA sequencing; Beckman Biomek FXP automated workstation for high-throughput sample preparation; Thermo 2000 Nanodrop for nucleic acid quantitation; QuantStudio 7K Flex real-time PCR system for sample amplificaion; Spectromax M2 (Molecular Devices) with UV/VIS/Fluor 6 X 1096 well format for large-scale nucleic acid quantitation; Bioanalyzer (Agilent 2100) for sizing, quantitation, and quality control of RNA and DNA; Qiagen TissueLyzer II for rapid homogenization of tissue, and Covaris M220 for DNA/RNA shearing.
Microscopy Core Facility
Contact: Megan Chastain, megan.chastain@wsu.edu; 509-358-7541
Website: https://spokane.wsu.edu/research/core-facilities/microscopy-core/
The Microscopy CORE Facility provides researchers with access to high-end confocal microscopy in addition to more conventional brightfield and fluorescence microscopy. The Microscopy CORE Facility provides assistance with all imaging procedures as needed, and aids in customizing staining protocols to optimize data quality from tissue and culture-based research studies. Services include optical sectioning of thick biological samples, live-cell imaging, 3- and 4-D reconstruction of images, 3-D mosaic imaging, multi-area time laps, spectral scanning, and FRET/FLIT/FRAP imaging. Instrumentation includes an Olympus FluoView 1000 laser scanning confocal motorized inverted microscope with deconvolution, a Zeiss Axiovert A1 inverted fluorescence microscope, a Zeiss Axioimager M2 upright microscope and a Leica SPE laser scanning confocal.

Histology CORE Facility
Contact: Megan Chastain, megan.chastain@wsu.edu; 509-358-7541
Website: https://spokane.wsu.edu/research/histology/
The WSU Spokane Histology CORE provides high quality, research grade histology and pathology. The CORE can help with all steps from sample collection to data analysis. Equipment includes a cryostat, a processor, an embedding station, a microtome and an H&E stain line. Special stains and immunohistochemistry are also available. Contact the CORE before starting an experiment so any other tissue dependent assays can be integrated with the histology.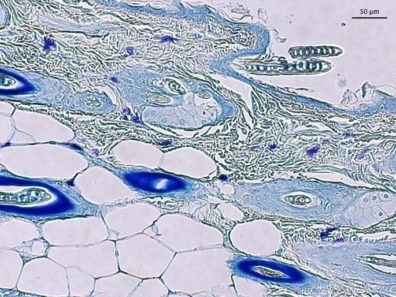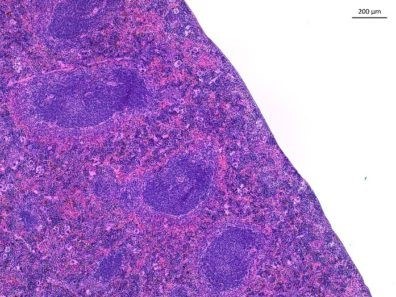 Imaging CORE Facility
Contact: Megan Chastain, megan.chastain@wsu.edu; 509-358-7541
Website: https://spokane.wsu.edu/research/imaging/
The Imaging CORE consists of state-of-the-art imaging equipment. The IVIS® Spectrum in vivo imaging system combines 2D optical and 3D optical tomography in one platform. The system uses leading optical technology for preclinical imaging research and development ideal for non-invasive longitudinal monitoring of disease progression, cell trafficking and gene expression patterns in living animals.
The Quantum GX2 microCT imaging system is capable of imaging into oncology, cardiovascular and pulmonary diseases and much more. Combining the ability to perform high speed, low dose scans, ideal for longitudinal studies across multiple species (mice, rats, rabbits) with high resolution ex vivo scanning, the Quantum GX2 microCT imaging system offers the flexibility and performance needed to not just image, but further understand disease models.
Flow Cytometry Core Facility
Contact: Ze Liu, ze.liu@wsu.edu; 509-358-7633
Website: https://spokane.wsu.edu/research/core-facilities/
The Flow Cytometry CORE Facility provides support for cell sorting and live cell imaging. Capabilities include simultaneous multicolor analysis of cell phenotypes, single-cell disposition sorting, quantitative measurement of fluorescent reports to assess distribution of specific molecules within cell populations, and fluorescent protein expression. CORE Facility staff provide training, consultation, technical assistance, and troubleshooting. Instrumentation includes a Bio-Rad S3 cell sorter, a BD Accuri C6 flow cytometer, a Beckman Coulter Gallios flow cytometer and a SONY MA900 Cell Sorter.
Mass Spectrometry Core Facility
Contact: Ze Liu, ze.liu@wsu.edu; 509-358-7633
Website: https://spokane.wsu.edu/research/core-facilities/mass-spectometry/
The Mass Spectrometry CORE Facility provides collaboration, consultation, and technical support for the analysis and quantification of small molecules such as drugs and drug metabolites in biological samples. Other services include the structural identification of unknown metabolites, peptide identification and quantification. Instruments include the Waters XEVO G2-S QTOF/UPLC system and AB Sciex QTrap 6500 LC/MS/MS-Shimazu Nexera UFLC system.
Nuclear Magnetic Resonance
Contact: Zuping Xia, zuping.xia@wsu.edu; 509-368-6575
Website: https://spokane.wsu.edu/research/core-facilities/nuclear-magnetic-resonance-core-laboratory/
The Nuclear Magnetic Resonance CORE Facility provides structural determinations of small molecular compounds, including peptides, nucleosides, drug metabolites, and potential new therapeutic targets. Applications include protein-ligand interactions, peptide 3-D structure, resolution of stereoisomer structures, and determination of the relative locations of atoms. The CORE Facility also provides training, consultation, collaborative research opportunities for analytical applications. A Bruker 500 MHz AVANCE II NMR is used for routine 1H, 13C, and 18F 1-D and 2-D experiments.
Biomedical Engineering and Design
Contact: Will Clegern, will.clegern@wsu.edu; 509-368-6750
Website: https://spokane.wsu.edu/research/core-facilities/biomedical-engineering-design-core/
The Biomedical Engineering and Design CORE Facility provides support and services to researchers by increasing access to customized research hardware (ex. 3D printed parts, faraday/electrophysiology chambers, customized microscopy stages, surgical stereotaxic parts and specialized molecular biology equipment), increasing access to Computer Aided Design (CAD) drawings for rapid prototyping, and allowing researchers and startup businesses to leverage their resources by saving on cost and allowing them to innovate more efficiently.
Production capabilities include cutting, milling, turning and grinding a wide variety of materials (aluminum, stainless, carbon steel, brass, titanium and high-temperature alloys). The facility is also capable of sheet metal bending and fabrication, MIG, TIG and Arc welding, brazing and soldering of stainless steel, aluminum, and tungsten, three-axis CNC milling (20″ X 40″ capacity), plastics fabrication (cutting, milling, turning), and ultrasonic cleaning.
3D printing capabilities include providing inexpensive parts production in a variety of engineering resins (durable, flexible, rigid, tough and high temperature) that can make fully functional parts or that can be used for prototyping during research development and design. The printer can generate 3-D models as large as 6″x 6″ x 8″. Bring your STL or CAD files for us to process, or we can design and develop your idea on site.