Pharmacy research on a rare genetic disorder may help others seeking to achieve equilibrium
Mike Gibson has been conducting research on a rare neurologic disease for over 30 years. He has recently teamed up with researchers at the University of California San Diego (UCSD) for a two-year project to continue his research on a selected neurological brain disease called succinic semialdehyde dehydrogenase (SSADH) deficiency, a defect of the GABA metabolic pathway.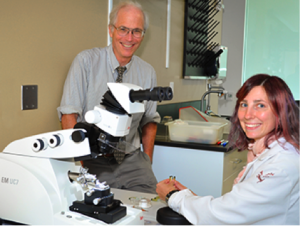 K. Michael (Mike) Gibson is a professor and researcher at the Washington State University College of Pharmacy. Even though Gibson's research focuses on specific and rare disorders, his findings related to gamma-amino butyric acid (GABA) could have a far-reaching impact for other researchers across the scientific world. GABA is a major inhibitory neurotransmitter in the brain and is involved in many functions beyond Gibson's research.
"The role of GABA is to help maintain chemical equilibrium in the brain," said Gibson. GABA counteracts the effects of certain stimulants, for example, some people avoid food additives such as monosodium glutamate (MSG) because of the "excitatory" effect of the glutamic acid, the amino acid component that makes MSG. The function of GABA is to balance these excitation processes in the brain.
"This project will break new scientific ground on the role of GABA in the human body," wrote Gibson in his research proposal to the National Institutes of Health. His collaborative project with the UCSD researchers was awarded $432,400 over the next two years through the National Institutes of Health Exploratory and Development Research Grant Program.
Using yeast, researchers at UCSD recently discovered that high levels of GABA prevent cells from breaking down cellular components that help maintain cellular energy in starvation conditions, a process called autophagy. Disruption of selective autophagy pathways results in significant oxidative stress and cell damage. Studies spearheaded by Kara Vogel, a post-doctoral associate working with Gibson, has reproduced the yeast findings in a mouse model of SSADH deficiency. Numerous drugs are available that can reverse disruptions in autophagy pathways that are commonly used, and will be examined in the mouse model with the hope of using them in patients.
"Our combined studies between WSU and UCSD have given us new insight into the biological roles of GABA, and opened up new strategies for treating SSADH deficiency," Gibson said. "In the long-run, we are likely to learn how to treat other neurological disorders in which GABA levels are abnormal."